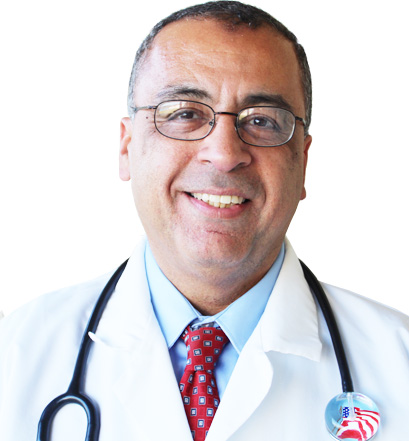 Adel Eldin, MD, FACC, FACP, MBA, GGA has been providing outstanding medical care to Floridians for the past 23 years.
Dr. Eldin is a Board Certified Cardiologist and is a Fellow of the American College of Cardiology and the American College of Physicians. He also holds an MBA from the University of Florida. Dr. Eldin is an entrepreneur who has been working on solutions for the healthcare crisis for many years. He is the founder and CEO of ProntoCare, Quality Affordable Healthcare and Florida Medical Tourism; a global hub for medical and wellness tourism that helps ease the global healthcare access crisis and serve the growing needs of patients.
He is a highly skilled and experienced physician who is dedicated to providing his patients with the best possible care. He is considered an expert in global health and has dedicated his career to providing quality and affordable healthcare to communities around the world.
Dr. Eldin has always put the needs of patients first, and his experience in the medical and entrepreneurial fields makes him the perfect person to lead this innovative company.
If you are looking for a compassionate and skilled physician who will provide you with the best possible care, then contact Dr. Adel Eldin.
He speaks locally and internationally, emphasizing the importance of "bringing the heart back into medicine."